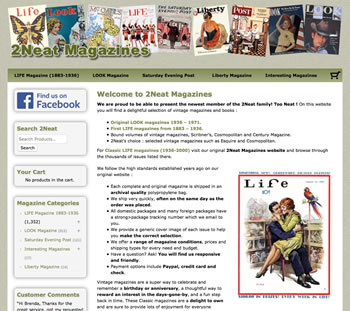 2Neat magazines sells vintage LOOK, LIFE and Saturday Evening Post magazines. With an inventory over 1000 items, navigation and organization are very important.
Automated order processing and inventory management make this an easy store to maintain and update. The store features a fully searchable database of products, cross selling, new item listings and easy to maintain specials.
To make this high volume site work, I implemented a shopping cart system with built in credit card gateway. This automatically processes credit card purchases and deposits the money into a local bank account.
This automated system allows 2Neat magazines to efficiently ship orders the day they are placed.