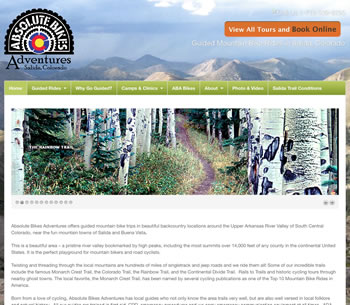 Absolute Bikes Adventures offers guided mountain bike trips in beautiful backcountry locations around the Upper Arkansas River Valley of South Central Colorado, near the fun mountain towns of Salida and Buena Vista. Their qualified local guides provide fun and customized experiences for all types of riders. They also rent mountain bikes and serve as a source for local trail information.
Absolute Bikes Adventures provided spectacular photos of the local region and trails, as well as photos of mountain bike riders having lots of fun in this lovely area. They chose a site design that made excellent use of the images. Especially important to their website is a "Current Conditions" section that they keep updated.
This website incorporates a mobile friendly design, an ecommerce package for Absolute Bikes merchandise, and a secure online system for trip booking and bike rental.