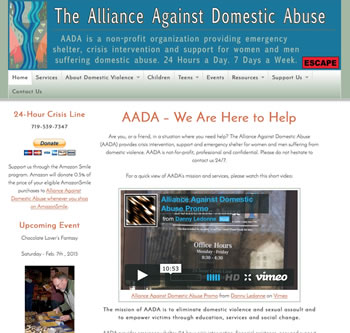 The Alliance Against Domestic Abuse (AADA) provides emergency shelter, 24-hour crisis intervention, financial assistance, peer and support group, court advocacy, assistance with restraining orders and divorce papers, children's services, information and referrals to victims of domestic violence and sexual assault, as well as community education and prevention efforts. AADA is not-for-profit, professional and confidential.
AADA provided a large amount of very thorough, straightforward and compassionate information about domestic abuse. It was well organized and ready to be integrated into an online framework. They did a good job of making the text and illustrations inviting and hopeful, while still being helpful and useful.
A unique feature of the website is an ESCAPE button linking to an innocuous Yahoo search result to protect the privacy of the website user. This mobile-friendly website has easy to find 24-hour crisis line information and ample links to ways to help, donate or participate in events. The website is both professional and friendly.