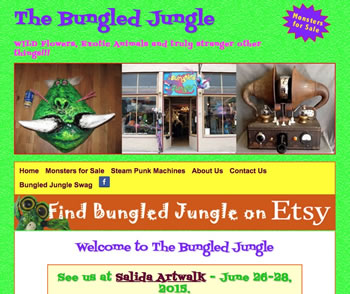 The Bungled Jungle is the collaborative effort of two silly (and highly creative) people, Pat and Suzanne.  Each sculpture is an original creation – no molds are used. Every Steampunk machine, monster, beast and varmint is one of a kind.
Pat and Suzanne used their creative juices to make all the critters and machines … and name them! Then they took good photos of them, provided descriptive text for the website, and chose fonts and colors that best expressed their personalities and artwork.
This humorous website is mobile ready, easy to navigate, and fast-loading. It has a fun design and eye-catching colors. It includes Facebook and Etsy incorporation.