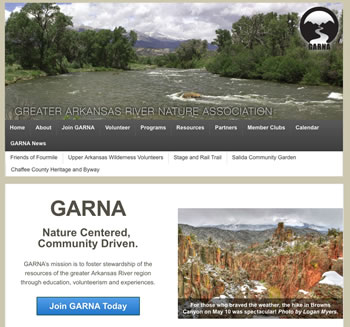 GARNA is a local nonprofit environmental group. Their mission is to foster stewardship of the resources of the greater Arkansas River region through education, volunteerism and experiences. Among much more, they organize the following: Friends of Fourmile, Upper Arkansas Wilderness Volunteers, Stage and Rail Trail, Salida Community Garden, Chaffee county Heritage and Byway.
GARNA selected nature-compatible colors and a simple website design. They provided lots of pertinent text content and good photos and images to illustrate the various activities, partnerships, and people. Special attention was paid to separating and promoting various activities and groups that make up the organization.
The website incorporates a content management system so the client can update the calendar and blog. It has a feature for secure online ticket purchases for events and a feature for members to log-in for online account management.