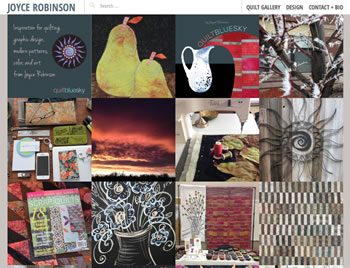 Joyce Robinson is a freelance graphic designer and photographer. She loves working with quilters to help them with both design of the quilt and with the technical details involved in creating the quilt. In addition to designing and making many individual art quilts, Joyce also does design consulting, teaches quilting, and makes quilted bowls and cards.
Joyce provided the unusual graphic design ideas for the website. She was responsible for creating the spectacular quilts and other unique artworks shown on the site and taking the professional-quality photos of them for illustration. She also gave good examples of her other work and a well-organized resume and background information.
This website is an excellent example of the use of a hip graphic design as a perfect framework to display colorful and unusual art. Some of the user pathways through the web pages and the blog are slightly different from standard as well, and this fits nicely with the modern artistic design.