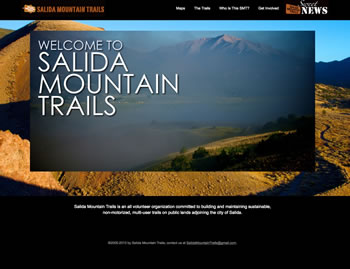 Salida Mountain Trails is a volunteer trail construction and advocacy group based in Salida. They build sustainable trails for hikers, runners and mountain bikers. Working closely with the community, state and federal organizations they have constructed a world class trail network around Salida.
Build with graphic design and photographs by Bill Donavan, it a a great showcase for SMT's trail work, and helps recruit new trail volunteers and trail users.
It is meant as the primary contact for their trail building efforts. It features great design, knock your socks of photography and good details about the trails. Maps of local trails are downloadable, and an integrated interactive map system by Juicy Trails. It also has Facebook posts automatically added, and Paypal donation ability.