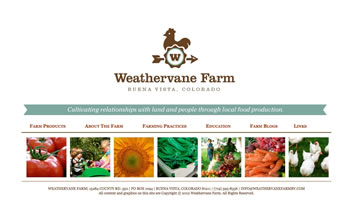 WeatherVaneFarmBV.com
Build from a graphic design by Jared Jacob.
This site showcases the spectacular local farming done by Seth Roberts and the Weathervane Farms crew. Great produce availablel locally using the CSA model. Sustainable agriculture in Chaffee County.
This site is built using WordPress, a very simple to maintain and update content management system (CMS). Ongoing updates to the site can be made by authorized administrators, easily and efficiently. The content is fully searchable and well optimized for good search engine performance.